Tomas Tranströmer and the 'Mystery of the Moment'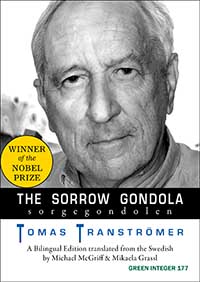 Since this morning's announcement of Tomas Tranströmer as the 2011 Nobel Prize-winner in Literature, the Swedish poet's collections have catapulted upward in sales rankings on Amazon.
Via e-mail, The Chronicle conversed with Michael McGriff, a poet who was co-translator of Tranströmer's The Sorrow Gondola, published by Green Integer Books in 2010. McGriff was distinguished poet in residence at Wichita State University earlier this year, and before that a Jones Lecturer at Stanford University. His next collection, Home Burial, is forthcoming from Copper Canyon Press.
Q: How did you come to translate Tranströmer's work?
A. I began translating Tomas Tranströmer's poems in 2005 with the Swedish skiing phenom Mikaela Grassl. I had always wanted to gain a deeper access to Tranströmer's poem "April och tystnad"/"April and Silence," which appeared in Tranströmer's 1996 collection Sorgegondolen/The Sorrow Gondola. To me, it's one of the truly great poems of our time.
Over the next year we worked via mail translating all 18 poems from The Sorrow Gondola. What started out as simply a project of my own curiosity turned into a passion for translation and a deep commitment to the works of Tranströmer.
Tranströmer's poetry has turned into one of the great passions and blessings of my life.
Q: How would you describe the poetry?
A. Tranströmer's poems exist in the images of the hinterland. He's utterly and entirely obsessed with the mystery of the moment, and he explores the moment through the creation of images.  It's in these liminal spaces that the poet finds himself. Everything about his work defies categorization. Some call him a nature poet; others call him a surrealist; some call him a metaphysical poet; some label him a religious poet. He is all and none of these things. The three concluding lines of his poem "From the Island, 1860″ say it all:
To row up through the silence./The eternally streaming moment and its stain./The eternally bleeding point of the moment.
Q: What do you see as Tranströmer's significance to world literature?
A. Behind Neruda, Tranströmer is the 20th century's most translated poet. His poetry speaks to essential human mysteries, mysteries experienced by people from around the globe: what it means to live, die, be at war, be a part of the natural world. In this way, he is truly a poet on an international scale.
His poetry opens a door, and when you step through you find yourself face to face with essential human questions. His poetry is that of the seeker and the witness. I can't think of a more deserving poet to win the Nobel.
Return to Top