Shedding a Tear for Tony Curtis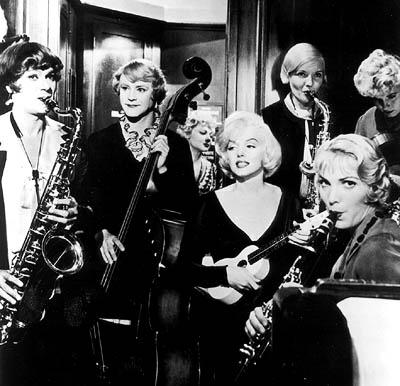 Tony Curtis is dead and a little bit of me has died too. He was one of the iconic male film stars of the 1950s. I suppose he was not as big as Jimmy Stewart or John Wayne, and he was certainly not an actor of the caliber of Henry Fonda or Spencer Tracey. But he had real star appeal and there was something truly endearing about the Bronx accent, especially when he was dressed up as a Roman slave in a short tunic. Above all, he was one of the stars—along with Jack Lemmon and Marilyn Monroe—of the funniest American movie ever. I first saw Some Like it Hot in the summer of 1959, the year it appeared, and I last saw it earlier this year on DVD. I show it regularly in my film course, Philosophy and Film, alternating it with the funniest British movie ever, Kind Hearts and Coronets.
For those of you so culturally deprived as not to know the plot, like the best farce, it is beautifully simple in outline and gorgeously mixed up in detail. A couple of jazz musicians (Curtis and Lemmon), in Chicago in the 1920s, accidentally get to see the St. Valentine's massacre. Running from the gangsters who know that they were there, they dress up in drag and join an all-girl band, which goes down to Florida. The Curtis figure (Josephine) falls in love with the ditzy singer in the band, Sugar Kane (Monroe), and much of the comedy follows as he then dresses up as a rich playboy, wooing Sugar with a demeanor and accent that parodies Cary Grant. Even funnier is the Lemmon figure (first called Geraldine and then changed to Daphne) who is wooed by a millionaire Osgood Fielding III, who wants to make her his next wife—a proposal accepted by Daphne who hopes thereby to get a good settlement when the marriage proves not to be all that it might. I won't spoil it by telling you the ending, but it truly has the funniest and best line in the whole of cinema.
Boring individual that I am, with my class I use the movie to raise the question of the nature of humor. Why is it that we find a story about the St. Valentine's Day massacre side-splittingly funny? Why analogously do we find Kind Hearts and Coronets, about a man who murders eight of his relatives (all played by Alec Guinness) so that he might inherit the family dukedom, really amusing? In both cases it has something to do with the absurd and suspension of belief. In both cases, obviously, although there is violence it is sanitized in a way. The men killed in the massacre were crooks themselves. The relatives of the future duke were the biggest crowd of parasites and boors ever seen on the silver screen. In both cases clearly there is some connection with ourselves being parodied. We too are cowardly and avaricious and obsessed with sex and more.
At this point I am all set to plunge into Aristotle on comedy. Alas, as I have said before, the stern Blogmeisters at the CHE keep me on a short leash. I am told that you readers would not entirely appreciate a pithy four or five thousand word dissertation on what makes us laugh and why it is or is not good for us—followed, of course, by the same on why we love to go to horror movies and be scared out of our skins. So let me simply return to Tony Curtis and say what pleasure he has given me in my life. His then-wife too. Who can forget Janet Leigh in that wonderful bedroom scene at the beginning of Psycho? And let us mention their daughter, Jamie Lee Curtis, especially her terrific comedienne role in A Fish Called Wanda. As I said, today a little bit of me died too.