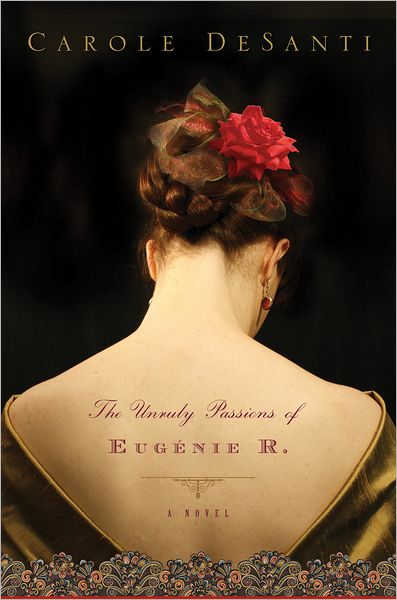 Yes, I know you're busy and that already have plenty of books to read, but—trust me on this one—you must get a copy of Carole DeSanti's new novel The Unruly Passions of Eugénie R. All right, so don't trust me: trust Publishers Weekly , Valerie Martin, Deborah Harkness, Sarah Blake, Mireille Guiliano, and Fay Weldon, all of whom love the book.
Weldon says DeSanti has written " a book to you make you think," calling it "a magnificent novel in scope and achievement" where "death does its worst, passion wears itself out, civilization moves a notch forward, and with it, or because of it, female understanding of what it is to be a woman."
Filled with the kind of historically and politically fascinating detail that made books like A.S. Byatt's Possession a bestseller and a ripping good read, The Unruly Passions of Eugénie R. is set in 19th-century Paris. You have that delicious sense that you're right there and that you've met these characters before—but never really known them before encountering them in DeSanti's pages.
In a way, DeSanti acknowledges as much when she talks about how she came to write the novel. After losing her "first real job" in publishing, "I had time on my hands, was reading for the GRE's and I procured a battered old copy of Zola's Nana. I devoured it in a night—but it also bothered me: Zola's heroine had no soul, no interior life—and I 'knew' (wherever this knowledge came from) that something was wrong, here." By creating the inner life and densely detailed world of Eugénie, she fills in the missing pieces; by offering a look inside the "courtesan culture" of brothel life (brothels were called "tolerances" because, while not strictly legal, they were indeed tolerated by the culture), she gives us a thoroughly mesmerizing view of the taboo and allows us to hear what for so long has remained in whispers.
Now is the time for my absolutely full and proud disclosure: if I'm not exactly unbiased about my celebration of Carole's work, it's because she's not only my friend—which would be quite enough, thank you—but because Carole was the editor who, during her "first real job" in publishing, suggested I write a trade book on women and humor. We were both 30. I'd just started at UConn and she was recently made editor at Dutton. We met because Carole had written a great article for The Women's Review of Books—then in its own first youth as well—about the absence of witty women writers. She was bemoaning the fact that our own generation didn't seem to be producing Germaine Greers or Kate Millets. I wrote her a note—it was when people still wrote on paper and put those pieces of paper in envelopes—and when she got the note, she called me at my office and invited me to lunch.
That first meeting took place 23 years ago and I still remember the astonishment I felt at being asked to lunch by a real live editor who turned out to be, in an almost uncanny way, my double. Turns out we had both been scholarships kids at fancy colleges who felt different from our peers but who still made good, who had lost our mothers at young ages, who were in love with books, who were astonished at our own good fortune, who would have been each other if a few details had been changed (surely Carole would have been an academic had she not been a successful editor, and I like to think I would have managed to get a job in publishing had I not become an academic). Carole, seeing my surprise at being asked to lunch at such an elegant restaurant, reassured me instantly that I was not going to be asked to split the bill. "Have whatever you want," she said, laughing. I was still deep in debt from student loans and had never looked at a menu from left to right but always instead let my eyes move from the price to the item (you know—when you run your finger down the column until it reaches $2.95 and then you run it left until it reaches "bean salad" and that's what you order).
I told Carole I was revising my dissertation for Wayne State University Press, who had already given me a contract, for which I was wildly grateful. She suggested I might want to a version of the book for a wider audience, replacing Jane Austen with Patty Duke and George Eliot with Mae West. She also suggested that, were I to do such a thing, there might be something in it for me. I assume she meant more fabulous lunches. What she meant was money—and readers who wanted to laugh out loud.
(In those days, publishers were still offering actual money even to unknown writers. I agreed to write two books in a year and I did it. They Used to Call Me Snow White, But I Drifted went into 19 printings and paid off my college loans. It wasn't published by Dutton because the house was collapsed into another publisher. But before she left, Carole steered me to a wonderful agent and I was safe)
Carole ended up more than safe, too; she is one of the most well-respected women in the world of New York publishing. As the editor for Dorothy Allison, Tracy Chevalier, Marisha Pessl, and Terry McMillan, among others, Carole has shaped, for the better, what we've been reading for 20 years.
But it was during those days and nights when she was between jobs that she was reading Zola. Who knew it would lead to Eugenie and to such a great novel of her own?
Viva Eugénie; Viva Carole DeSanti.
See the \"trailer\" for DeSanti\'s fabulous novel