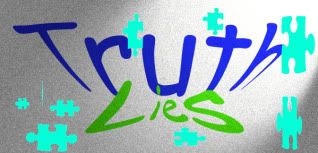 As I've said before (trust me) lying was the cornerstone, the bedrock, the weaving and shaking but nevertheless enduring foundation upon which the life of my family was built. So I'm not sure I'd want to make an argument against lying, even in creative nonfiction.
I'm teaching a CNF course this semester, and several of the students — they're a smart bunch — have already asked how much of their writing has to be "true."
It's a good question and not one that's limited to the classroom.
After all, why settle for fact? Why not make a story out of ordinary, found incidents, the way some artists make sculptures out of wrecked cars or fabricate fabulous images out of dirt, blood, and rust? Isn't the most charming person the one who makes you believe you alone are the most interesting person on earth? Does it matter that, strictly speaking, you are about as interesting as bubble wrap? Don't we choose — for our leaders, for our celebrities, for our icons — those who are willing to supply us with a vision; don't we believe in the vision itself rather than checking the eyesight of the one providing the vision for us? So what if the actuality turns out to be slightly different from how you found it; so you changed it. So who cares, so long as you made it better?
You have to have a certain amount of inventiveness and imagination, as well as an excellent memory, to be able to lie convincingly. You need to be able to make what is not real appear real. "People have a careless way of talking about a 'born liar,' just as they talk about a 'born poet.' But in both cases they are wrong. Lying and poetry are arts," argued Oscar Wilde. Wilde wasn't one of my ancestors, but obviously he would have felt very much at home. Wilde regards the revelation of the sordid details of our actual lives as terrible because they turn out to be — not heartrending or shocking or seductive — but supremely vulgar. Listening in on someone's else's intimacies, Wilde implies, wouldn't have you going "Oooooo!" but "Ugh."
But these days lying is more than a family matter: it's a matter of national interest. Having read bits of all too many court and government transcripts (naturally, these often overlap) we can all too easily agree that people telling the absolute truth about every detail of their lives will stun into apathy the most otherwise curious member of the audience.
People sound really stupid and really dull when talking about the unadorned trivia of existence: the typical unadorned discussion of authentic detail is either tacky or remarkably boring.
Let's put it this way: just because something happens to be true doesn't make it significant.
This is not to underestimate the fact that certain lies have important functions in our social order. Lies do lots of things: they keep groups together (when everyone believes the same lie), they protect the innocent (that's why Dragnet changed the names, right?), and they help us survive everyday life.
You don't agree? How about the following defacto truth: All babies are beautiful. It simply does not matter if your colleague's new daughter looks like a cross between Winston Churchill and Rush Limbaugh.
Just declare that she's gorgeous and simply do not define what you mean by gorgeous.
Saying "Goodness, what an intensely objectionable infant" is not the revelation of truth: it is sabotage. It's the sort of remark that's especially unkind if it's true.
White lies, like white magic, make things better, not worse, despite the fact that the practitioners in such cases are — technically — neither scrupulous nor principled. Lies often help you get along without hurting feelings unnecessarily.
The search for truth can be compared to a cat chasing her tail: Frantic in her pursuit, her quarry nevertheless eludes her; despite the fact that all the world can see it's right there, it remains just beyond her reach. It cannot be possessed because, paradoxically, it is already part of her. You want to know; you don't want to know; the reality of the situation is that you already know. Truth is like nuclear waste: It needs to be dealt with carefully. Sometimes it needs to be buried way, way out of town. And sometimes it should never be uncovered at all.
Kamikaze revelations of truth ("Son, it's time for you to know that you were actually a product of America's first cloning experiment"; "Dear, would you be upset if I admitted that, as part of a youthful indiscretion, I once slept with the Denver Broncos?") are rarely helpful in shoring up a relationship or solidifying a position of trust. I believe we should be suspicious of those who would foist upon us truths better left unsaid. These are often seriously scary people. Those who tell you the truth "for your own good" or because they are sure "you'll want to know this, even if it makes you unhappy" are not your best friends.
While I traffic in the truth, I nevertheless maintain my inherited ability to fabricate. If I lie to keep peace, or fib to make someone feel better, or reassure myself that the world is not as chaotic and unkind a place as it seems to be, am I the sort of liar who deserved punishment and censure? If I pretend to be courageous when I'm terrified, am I lying or am I being brave? If I fake a happy ending, who's to say the world won't believe me, won't catch up with me and make it so?
The truth is too big, too finely nuanced, too delightfully or desperately made up of different stories, to be owned by any single soul, or viewpoint, or mouthpiece.
I wouldn't kid you.