Barry D. Karl and the Historical Profession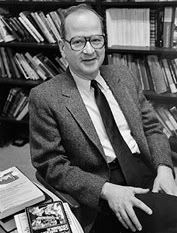 My friend and long-time historical collaborator Barry Karl died while undergoing emergency open-heart surgery in Chicago early this week. Barry would have celebrated his eighty-third birthday on the 23rd of this month — which will be the date of the first birthday of his only grandchild, Ethan. It is too bad that he could not have lived longer, but he had a long, successful and interesting career. Barry was raised in Louisville, Kentucky and attended the University of Louisville, from which he received his first degree in 1949. He moved to Chicago, which proved to be his appropriate spiritual and intellectual home, for a master's degree in philosophy in 1951. He then took a job in publishing, as associate editor in the humanities and history, at the University of Chicago Press. It was there that, while helping Louis Brownlow write his autobiography, Barry discovered his vocation as an historian of the relationship of the state to democracy in America. He moved to Harvard to do his doctoral work in history under the direction of the Roosevelt biographer, Frank Freidel.
It was at Harvard that he discovered his love of, and talent for, undergraduate teaching and university administration. Even as a young scholar he became central to the administration of the residential college system and the general education program. Taking his doctorate in 1961 (we were contemporaries in graduate school at Harvard), he moved on to a series of professorships in distinguished history departments: Washington University (1962-1968); Brown University (1968-1971) and, finally, at his beloved University of Chicago (1970-1996). At Chicago he was for a time the chair of the history department, and for several years he was a senior advisor to President Hanna Gray, his long-time friend. He was widely considered the institutional "wise man" at Chicago, both because of his comprehensive knowledge of institutional history and his devastatingly clear-eyed understanding of institutional dynamics. I am much too close to Barry to make a judgment, but I think it would be fair to say that he was widely considered to be one of a very small number of truly distinguished historians of modern America.
Barry was a great undergraduate and graduate teacher, but his commitment to teaching did not keep him from producing a series of books and articles that will long be read by students of American history. His dissertation, the outgrowth of his earlier work with Brownlow, was published in 1963 as Executive Reorganization and Reform in the New Deal. He then wrote a brilliant book on the most important of the first generation of American political scientists, Charles E. Merriam and the Study of Politics (1974), and, finally, a high-level narrative of modern American history, The Uneasy State: The United States from 1915 to 1945 (1983). In these books Barry combined his remarkably deep and comprehensive knowledge of western political theory with his deeply sophisticated understanding of political dynamics to construct a picture of the "weak-state" tradition that he thought accounted for Americans' "uneasy" relationship to governmental structure. His books were not always easy to read, since Barry perceived level upon level of comlexity in the process of historical change, and his challenge was to explain that complexity to those of us who tend to take things at face value. Barry took nothing at face value.
For the past thirty five years Barry worked in the emerging field of the history of philanthropy, a topic to which he and I were both drawn in the mid-1970s when the remarkable archival resources of the Rockefeller family first become easily available at the Rockefeller Archive Center in North Tarrytown, New York. we collaborated on several articles sketching the emergence of the large philanthropic foundation in the United States, and Barry then decided to undertake a large-scale history of these poorly-understood elite institutions of planning for democracy. In the end, he was never able to complete the book manuscript in a manner that satisfied his incredibly high standards. Part of the difficulty was that he kept expanding the subject to be explored — he produced a draft manuscript, for instance, on the meaning of the concept of "charity" from earliest historical times! But he never lost his passion for the project, Even in the last week of his life he was drafting a blog post for a university website on philanthropy, and an op ed for the New York Times on the legislative veto.
Barry Karl was keen to reach a large audience, since he was committed to the notion that it was the historian's duty to inform the public. I'll write more about this later, but he was passionate in his belief that history was a public profession. In a 1975 book review he commented that "what is modern historical professionalism but the capacity to surmount the frustrations produced by the competing responsibilities of teaching and writing". Like most of us in the historical profession, Barry never surmounted those frustrations, but he went to his death charging the barricade.
Rest in peace, Barry.
Return to Top