February 6, 2008, 04:50 PM ET
Presidential Grace Under Pressure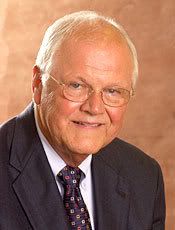 Dartmouth President James Wright (Photo from Dartmouth's Web site)
Like many self-appointed critics of higher-education policy, I have frequently disparaged the leadership of higher ed in this country. There may never have been a Golden Age, but I believe that on balance we had more passionate and articulate leadership from the presidents of our colleges and universities half a century ago when I was discovering my vocation as a professor. James Bryant Conant was my college president, and I remember him with great warmth. I never knew Clark Kerr or several of his most distinguished contemporaries, but it seems to me that I found more to admire in the presidents' offices of a generation ago.
But that is not to say that I have not admired a number of more recent educational and university leaders. Ernie Boyer, a very good friend, was certainly such a person — as is his successor, Lee Shulman. But one of my benchmark figures for excellence in educational leadership was the late Jim Freedman, a very close friend whom I first knew as my dean at the University of Pennsylvania law school. Jim, a Jew from New Hampshire, an unlikely person for such a school and place, was a superb president at the University of Iowa. And, later, he performed heroically while under terrible pressure at Dartmouth College, securing his legacy as an administrator who fully understood the values of liberal education. Jim was a model of grace under duress — and it took its toll on him. If you have not read the memoir of his early years, Finding the Words, I urge you to do so.
One of the required skills for a great CEO is the capacity to identify and confer serious responsibility upon talented subordinates. After arriving at Dartmouth, Jim Freedman discovered just such a person, Jim Wright, and made him his provost. The two Jims were utterly different sorts of persons and scholars, but they were dramatically alike in their commitment to the need for democratic values in liberal undergraduate education. Jim Wright succeeded his mentor when cancer forced Freedman to retire a decade ago, and from my point of view he has had a brilliant run at Dartmouth, continuing the opening up of a heretofore rather closed college environment that his mentor had begun.
As it happens, I have known Jim Wright since he was a graduate student in American history at the University of Wisconsin. I liked him then, and my admiration for him as both a historian and college leader has grown exponentially over the years. Jim has just announced his retirement (when students retire before their teachers, it makes the teachers feel just a tad old), and I would like to go on record as saying that he is on my short list of those who have made a very significant contribution to the commonweal of higher education.
Thanks for a job well done, Jim!